No matter what type of hair you have there are hundreds of hairstyles to try on them. but to make a try you should get to know a few of the best hairstyles you can have. If you have short curly hair search accordingly and get some of the ideas about the natural curly hairstyles for short hair. So you don't want to continue with that routine hairstyle you can take a break from it and can try new hairstyles on your curly hair.
Curls and bows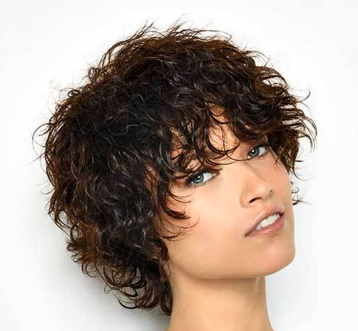 If you are having shoulder-length curls there you can have shoulder-length curls and a bow hairstyle. You need not put efforts on having them just take few strands of hair from each side and hold them with the help of the bow and leave them as it is. Now you can get unique and cute looks.
Afro-texture curly hairstyle
Mostly the African women like to have that short length hair because that makes them feel comfortable. In that row, if you are having short curly hair you can try them on your hair. But the only thing is this hairstyle requires little extra care and maintenance.
Bob and bangs
The bob and bangs are popular haircuts these days anyone can have them. Both of these cuts make you look trendier if you prefer to have them you can have the choppy bangs with the layer cut because it usually goes with any kind of face shape.
Stacked bob
The stacked bob is also an amazing choice of hairstyle for short curly hair people because it gives you a face-framing look so that overall improves your natural look. When you wish to have them you have to prefer an experienced hairstylist to get the proper layers.
Pixie with undercut
Pixie is also one of those best hairstyle options for naturally curly hair peoples. You can try the pixie with an undercut but to have this style you have to trim the entire hair in the bottom part of the head entirely. To add additional charms to this hairstyle you can try the hair color over this style based on your preferences and also highlights if you are interested.
The above mentioned are some of the short curly hairstyle ideas anyone can prefer any of them based on their wish but overall they can get a unique look through trying some hairstyle different from those routine hairstyles.